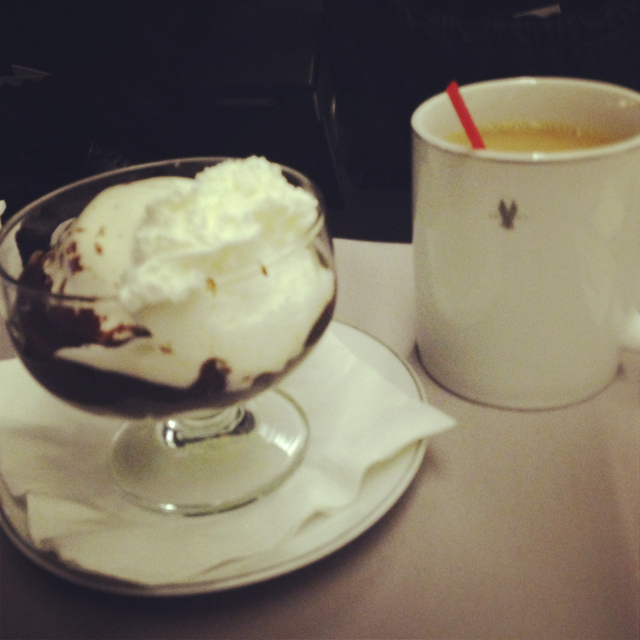 AA0180 – LAX to NYC [First Class]
May 20, 2013
For my flight last Friday departing at 4:15pm, I flew American Airlines in First Class. I booked the flight using British Airways Avios as I have a ton of Avios banked from the Chase visa, BA branded card and spending. Now, normally, there are fuel surcharges and luxury taxes associated with flying via London or flying BA metal (see The Points Guy, One Mile at a Time, View from the Wing or Million Mile Secrets for more in depth coverage on the ins and outs of mileage affluence). So, I generally make it point to either a) fly AA domestic or b) fly Asian airlines outside of London (like my trip last winter from Tokyo to New Delhi on Japan Airlines). There is, of course, the 3rd option of flying BA metal in order to use your Companion Ticket from the BA branded card spending but that's a whole other topic!
For this occasion, I went with option (a). Costing around 37,500 Avios + $2.50 taxes + bucket full of drama associated with my sister being a part of the "household" account, it was still worth it to fly first class. I got to use the AA Flagship checkin! For some odd reason, once again, I was not TSA pre-checked…maybe because this was effectively a one-way trip even though I purchased my return, also on AA, but as a separately booked ticket. The fancy Flagship guy escorted me up to the security line.
After all the formalities and "security" measures, I made my way to the Flagship lounge where I enjoyed a quick glass of wine before heading to the gate for boarding. On board, it was an older 767 aircraft with only 3 rows of 2-1-2. The seats had massagers!…Really, just gently rolling "massagers".
The crew was pretty friendly and my seat mate was a regular chatty Cathy but for a 4:15pm flight, I wasn't in the mood to sleep any way. While the airplane was an older aircraft, the service, dining and space made up for it.
My welcome drink was the usual "champagne" which I think is just sparkling wine…and not a very good one. But, hey, it's the thought that counts right?
Shortly after we took off, we hit some turbulence. The captain advised that it would last approx. 20 minutes and then regular service would resume in the cabin. So, it took a bit longer than normal but dining service soon began.
The starter was some kind of sliced tenderloin with pink peppercorn dish. AA food, with the exception of the pasta dishes and "smoked chicken", are usually woefully under seasoned and this was no exception. My pet peeve is also that their tiny salt shakers (see above) have ONE single dot for the salt to come out of…it's a freaking arm work out to get the appropriate amount of salt to come out for each dish.
Next up was the mixed salad with peas, artichokes and smoked chicken. There really wasn't even a hint of peppercorn taste in the dressing. And as aforementioned, the smoked chicken was salty, but I have a salty palate so I was thankful for the break between bicep workouts wrestling the salt shaker.
For the entree, I went with the filet with gorgonzola sauce, mashed potatoes and green beans. Now, the filet can be a hit or miss. Most of the time, it is an unappetizing grey mass…almost like a braised hamburger patty. But on one particular flight from DFW to LAX, the filet was actually perfectly rare, so much so, that had it been AA's usual midwestern demographic, they probably would've asked them to cook it longer. I more than happily enjoyed my rare filet. On this flight, the steak was medium rare! Though the texture is still in between steak and ground meat, the rareness of the cooking temp really lends itself to creating a more appealing mouth feel. Note to those on international flights who prefer to dine at a later time…they will just keep your steak in the oven until you ask for it; so, that's probably the best way to ensure an over done steak.
The best part of any AA meal? Their signature sundae! I always get it with extra hot fudge and some whipped cream.
We touched down early and I got out of the plane super fast only to get down to baggage claim and have to wait for my cousin's checked bag…which she coerced me into carrying! Sigh. Good thing I booked car service from JFK to my sister's place in Manhattan! Only $40 flat fee – Quick Ride Corp. Yes, they are totally mainland Chinese and no, they don't come into the terminal with a fancy ipad sign with your name on it. Rather, you wait on the curb and jump in as they illegally NOT pull over at passenger pickup. But did I mention it's only $40?!
I made it to my sister's by about 1:30am. After some girl gab with Christina and Stacey, I went to sleep to prep for the next day's GoogaMooga. Whew!