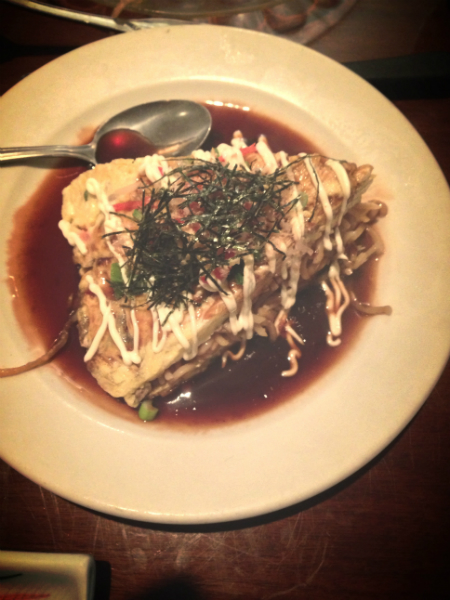 Musha – Torrance
May 22, 2013
For dinner last night, the parents wanted an ol'standby, Musha in Torrance. This Japanese small plates restaurant (izakaya) has 2 locations – one in Santa Monica (where all the stars like Owen Wilson (yes, he counts and yes, I saw him there once!) go and there's usually a wait) and one in Torrance (where even when you have to wait, they give you a pitcher of beer to enjoy). They have a good variety and the prices are more than reasonable.
Let me segway at this point to how I am a terrible food blogger. I am usually so hungry that I forget to take pictures before eating the dish! Ugh. I was able to capture the aftermath of a couple dishes and had the forethought to snap a couple pre-eating. But the majority of the night's dishes were gobbled up before I even remembered I had a camera. *sigh* Next time?
Here we have the takotama. It's an odd omelette pie made with octopus and in between the layers of egg is a whole bunch of noodles. The pie is in a pond of sweet and savory sauce and drizzled with the ever present mayonnaise. I'm not sure why Japanese food in the U.S. is decorated with mayonnaise. If it didn't taste so good, it would gross me out.
The maguro yukke is a raw tuna dish. It is marinated in Korean spice paste (gojuchang) and topped with pine nuts and chopped green onion. It's a little sweet and a bit spicy. There's a cute quail egg with only the yolk in its tiny shell. You are to pour the yolk into the pile of tuna and mix it all up. As I am trying to stay healthy, I forewent the rice crackers and ate the tuna solo.
Buta Kakuni is basically soy braised pork belly and pork shoulder. This dish is known as hong shao rou in Chinese cooking; my mom makes this dish the best. The Japanese version has a lighter sauce but no less flavor. In Chinese cooking, the 5-spice and ginger notes are loud and clear. The Japanese version is also accompanied by hot mustard. I absolutely love it. It cuts the richness and sweetness of the pork and sauce perfectly. Served with a soy marinated egg and boiled potato and pickled ginger, I love the paradoxical nature of Japanese cooking. It doesn't sound like it should go together but it so does!
Now, when this dish hit the table, my mom sniffed derisively at it and wondered incredulously why I would order simple "fried rice". And then she took a bite. And she realized that it wasn't simply a fried rice dish. This is a stunning kimchi and pork fried rice. The egg is soft and not rubbery like most Chinese types of fried rice where the egg has been pre-cooked and added to the rice after it's been sitting and turned to chewy, floppy, yellow strips. This is a perfectly sautéed fried rice where the rice kernels are glistening and shiny from the hot wok oil. There's a subtle spiciness that doesn't overwhelm the palate…absolutely delicious.
Unfortunately, this is the end of our pictorial. We also got the sashimi combo (yellow tail, hamachi, tuna and salmon), the albacore carpaccio with jalapeno ponzu, beef and garlic croquette, tofu salad, grilled yellowtail collar, jidori yuzu chicken leg, tofu nuggets, 3 large sakes and 2 green teas. There were 5 of us and the bill came out to roughly $167 = $198 with tip. Not bad.
The ambience is great with jazzy music in the vein of Bebel Gilberto and dim lighting. There is a sushi bar for seating, a large communal table, and then smaller 2 tops and 4 tops surrounding it. It's a great date place. But while the service is friendly, they can be a bit absentminded in forgetting to bring out certain dishes and a bit absent, in general, after you've placed your order.