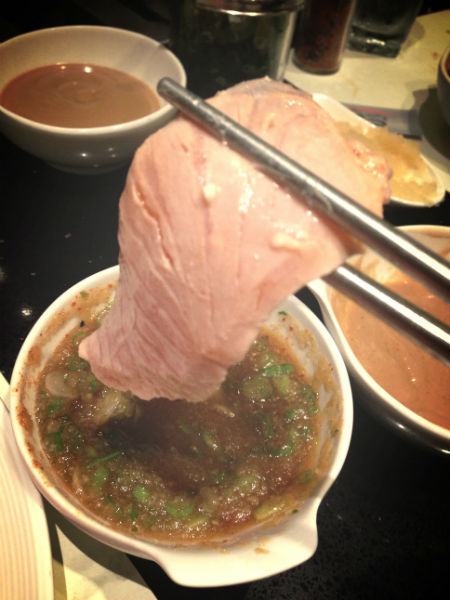 King Shabu Shabu – Torrance
May 23, 2013
Last night, we hit up one of our favorite shabu shabu places – King Shabu Shabu. This place opened fairly recently (a year ago) and speaks to everything I look for in a shabu shabu eatery. It's clean, bright, has individual pots and the ingredients are all super fresh. They have their own slicing machine out in the open and it's gleaming. The people are really nice too! I believe a couple of the owners are Malaysian and also speak Chinese – total bonus points.
While service is usually prompt and on point, they did happen to forget me this time. But I don't hold it against them.

They're easy to flag down and clearly apologetic when something goes awry.
For the un-indoctrinated, shabu shabu means swish swish in Japanese. It is the equivalent to Chinese hot pot. This is where a boiling pot is in front of you and you dip all sorts of ingredients into the water/broth. It is usually accompanied by assorted dipping sauces. If it's shabu shabu, this is most certainly goma (sesame based sauce) and ponzu (citrus/soy). To the ponzu, you add green onions, dashi (crushed radish) and garlic. Some places offer fresh chilis too…King Shabu Shabu offers HABANERO extract! One tiny drop can burn your mouth out. I. Love. It.
The best thing about King Shabu Shabu is the individual pots. There is bar seating around the meat slicer and main server station and each seat has its own pot. This is not unusual, what's unusual is that even the tables have their own individual pots! Usually, table seating requires sharing but at King Shabu Shabu, each table of 4 has 4 individual hot pots.
Some people choose to doctor up the water with seasonings. I used to do that but I didn't find that it really added much to the flavors of the meats or veggies. And I get that you can drink the broth afterwards, but here, they give you an udon bowl with a ladle of seasoning already in the bowl so all you have to do is spoon the regular water/broth into your udon bowl and it's seasoned. Voila!
I usually order the regular sized prime ribeye and extra side of tofu (which is pretty much a whole Nasoya package of tofu). But I was especially hungry last night and decided on the large combo ribeye and salmon since I was foregoing rice and noodles. Look at all that lovely marbling! I also got my extra side of tofu.
Shabu shabu can be super healthy if you don't fill up on bowls full of rice. The veggies are a gorgeous assortment of carrots, spinach, cabbage, enoki mushrooms, shitaki mushroom, broccoli, and tofu. You also get a couple slices of fish cake (so Asian) to eat with the udon noodles at the end.
The meal for 4 people ended up being $115 with tax and tip (1 regular shrimp, 1 regular chicken, 1 large choice ribeye, 1 large combo prime ribeye + salmon + side of tofu).
If you're intimidated because you've never done shabu shabu before, sit at the counter where they can instruct you on how to season your sauces and how long you should cook your meats for. At the end, they'll even scrape the scum off the broth and serve you a deliciously clear udon to end the meal. Unfortunately for me, I didn't get to eat the noodles. *sigh* Next time!
I did, however, eat a dark chocolate covered creme de menthe which they have a giant bowl of to the right of the exit. Don't miss it. I'm not going to lie…sometimes, my cousin and I are THOSE Asians…you know, the ones who grab fistfuls of the free candy and jam them in our purses/pockets for later. Since I'm trying to avoid carbs, I satisfied myself with only one. You're welcome.