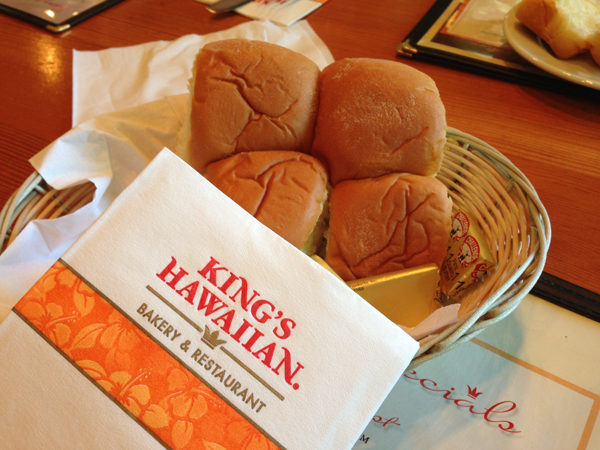 King's Hawaiian Restaurant & Bakery – Torrance, CA
May 25, 2013
King's Hawaiian makes the most wonderful buns. Sweet, soft and chewy!…Unfortunately, their restaurant really isn't that great. BUT, Hawaiian food is generally meh. That's not to say I don't love eating Hawaiian food (actually, I probably could've just stopped at "I love eating."). On the contrary, I love eating Hawaiian food. I'm just honest when I say that it's really not all that adventurous. Meat, rice, mac/potato salad, the occasional poke, and then lau lau (meat steamed in taro leaves) which is as crazy as it gets.
While King's Hawaiian makes all of the typical Hawaiian dishes, they also have some more imaginative choices like Kalua Pork Nachos – tortilla chips covered in black beans, cheese, kalua pork, and sour cream. Those are delicious. Everything else is what you would get at any roadside food stand in Hawaii.
We started with the appetizer sampler which included the excellent nachos, macadamia nut onion rings, tuna poke, calamari and…drum roll…SPAM masubi! I love spam masubi – a.k.a. white trash sushi made of sushi rice wrapped in nori with a slice of spam. I love to eat it with a dollop of sriracha. The only real standouts were the nachos and spam masubi (which you can't really eff up). Everything else was just generic. But judging by the crowded dining room and wait for tables, people love generic.
The boys got the Kona Fire Rock pale ale and this girl got the cabernet which was a price $8.25 glass of Robert Mondavi. Not worth it but with their limited booze list, I had no choice.
I went with the luau platter which included kalua pork, huli huli chicken (grilled dark meat chicken with a savory sweet marinade), lau lau (steamed pork shoulder in taro leaves), lomi lomi (salmon poke), chicken long rice (clear rice noodles in a chicken broth), all served with a side of plain rice and mac/potato salad.
We also got one of the specials for the day which were kalua pork sliders served with a side of the macadamia nut onion rings. The sliders were served on the King's Hawaiian buns and topped with a pineapple slaw/chutney. I thought when combined with the bread, it was overly sweet and one note. The texture was deliciously soft with the fall-apart meat and the chewy, yeasty rolls. But overall, the only flavor I really got was…sweet.
If there is one thing this brand name can do, though, it's bake! The rolls are pretty much unlimited (or at least, they didn't cut us off after 3 basket refills). And the adjacent bakery makes beautiful cakes and sells the famous rolls and breads.
For dessert, you can choose off their dessert tray or any cakes from the bakery can be served by the slice. We went with the mocha huapia cake which is a chiffon cake with mocha and coconut pudding topped with a whipped icing akin to cool whip. It was deliciously subtle but I still found myself wishing for the chocolate huapia pies found on the North Shore at Ted's.
We also got the paradise cheesecake which was a mix of tropical fruit flavors in cheesecake form. This was super yummy and not too sweet. Just the way I like it!

Overall, the final total was $122 with tax and tip for 4 people. When you're hankering for some Hawaiian, you can't go wrong with King's Hawaiian..but there are probably cheaper options out there. Go for the bread and baked goods. Go elsewhere for anything else.