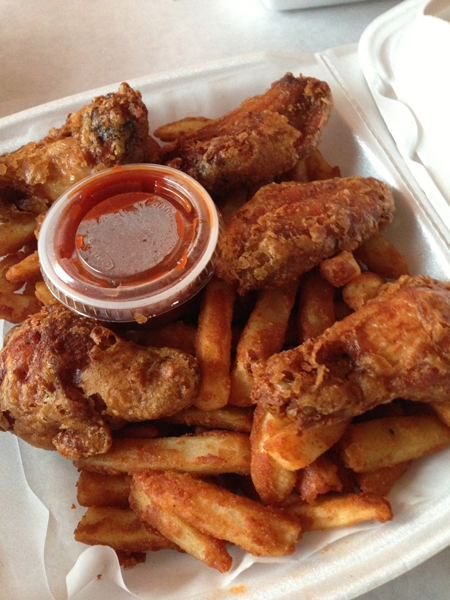 The Boiling Crab…wait, I mean Boiling Shrimp (a.k.a. The Boiling Crab knockoff) – Redondo Beach, CA
May 26, 2013
There is a magical place with multiple locations (all totally inconvenient from me in Redondo Beach) and it's called the Boiling Crab. The seafood is fresh and perfectly cooked (most of the time) and the seasoning is overwhelmingly salty/spicy and swimming in garlic…just the way I like it…
…this is not that place. This place is the Boiling Shrimp. Both places are run by Asian people. Don't you love our ability to even knock off restaurants? The Boiling Shrimp opened a location in Redondo Beach on the pier. They used to deliver and seem to indicate they still do, but every time I call for delivery, they don't have it. But, it's seriously only a 5 minute drive from my house. It's the kind of place you'd totally go for a summer sunset with beer and buckets full of seafood. Frankly, I'm just not willing to make the drive to the Boiling Crab and wait the 3+ hours for a table some times, so, in a pinch, the Boiling Shrimp will do. And even though, I know it's only a watered down version of the real thing, it still hits the spot when you measure it agains the inconvenience of battling LA traffic. 
Thursday night after work, the roomie picked me up and we were both starving…which of course, caused us to over order. We ended up getting 3 lbs of shrimp with their medley mix (4 different seasonings) at medium level spiciness; 3 lbs of clams and 2 lbs of mussels all with the same seasoning. We also got 2 orders of chicken wings (6 to an order and comes with fries!). They stiffed us on the side of rice. Boo.
I've gotten their crawfish before and frankly from the 3 times I've gotten them, they've always been overcooked and taste like they're out of season and frozen. So, we stuck with all the other items.
The shrimp is usually a safe bet. Unfortunately, this time, they were overcooked. I think the problem was, I waited an additional 20 mins after I got there for my food to be ready. It seemed like everything was ready except the chicken wings. I'm not sure why they didn't start the wings with or before all the other items as they take the longest to cook! *sigh*
The wings were awesome. I first scoffed at the 6 to an order quantity as the price for the dish was $7.95 an order…but then, when we opened the box, we saw it's actually a complete meal with fries. And these aren't the anemic wings you find at some Wing Stops. Nope. These were the sizeable, probably genetically modified kind. I'm okay with that. They went with the Asian cornstarch method of batter. This makes for a crumbly and light coating with a satisfying crunch. There was no sauce for the wings, and they didn't need them either. They tasted like the kind you get from the late night, cheap Chinese shops in NYC. You know the kind I'm talking about. They were perfect.
I do have to say, the flavor of the sausage here vs. the Boiling Crab is better. It's spicier. But the texture is kind of odd and spongy…like it's been sitting in the boil for too long. Regardless, I always order it any way as it makes for great leftovers and especially as an additive to my leftovers-paella dish!
I had never gotten the mussels before so we cautiously only ordered 2 lbs instead of 3. haha They were great! Plump and well spiced.
The clams are my absolute fave. They're juicy and the shells make great sauce catchers! They taste delicious with the missing rice.

We also got garlic bread. I didn't partake in any of the carbiness but it looked like generic garlic bread to me. Nothing to write home about.
The best part about these kinds of seafood places is when you take it to go, they usually give you the butcher paper for your own table, so that you can authentically throw shells right on your table without felling guilty about the mess. And if you're like some people I know, you also need the bibs they so kindly throw in the bag for you.
We enjoyed our bags of goodies while watching the sunset from the dining room and enjoying a nice glass of proseco. The total for everything came to $125 for 4 people and 8 lbs of seafood + 2 orders of fried chicken wings + 2 orders of sausage + 1 order of rice (which we never received. ugh.). Pretty much a steal!