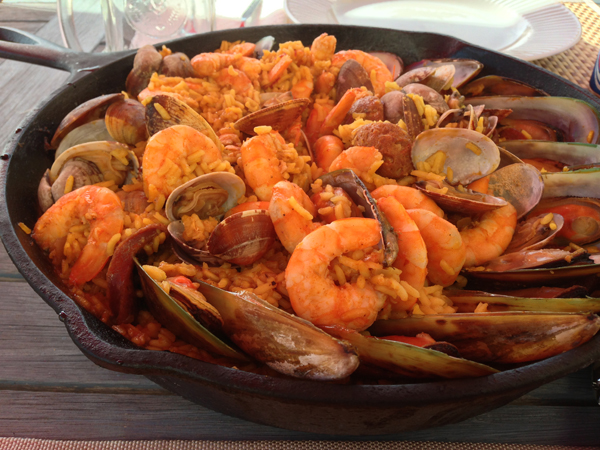 Recipe: 'Leftovers' Seafood Paella
May 27, 2013
So remember all the carnage from the Boiling Shrimp? Yeah, well the pounds of leftovers are put to good use with my bastardized seafood paella. It's a bit of effort and a lot of time but it's so worth it.
First, you have to shell and de-head the shrimp, reserving the meat for later. Take the shells and put it in a large stock pot with any bits of leftover lemons. I also threw in leftover limes from the cocktails yesterday and a sliced up half of a yellow onion. I dumped about a cup of chardonnay in there as well. Any will do. I went with whatever we already had open in the fridge. Add about 4 parts water to 1 parts shells; or using my method, the shells should fill 1/4 of the stock pot and the water should fill 3/4. I then brought it to a boil and let it simmer for about 4 hours to make a thick shrimp stock.
Once it's all simmered down, use a colander or similar instrument to separate the shells from the broth. Now, at this point, you're ready to start building the paella. I know. You've been through so much already…de-shelling, de-heading, broth-making, etc. Yes, you are just now beginning the actual paella process.
Grab your paella pan or cast iron skillet. In my case, my paella pan feeds like 12 people and only 4 of us were dining today. So, I went with the cast iron skillet. Throw a bit of olive oil in the pan and let it come to heat on high. Toss in the leftover sausages from the Boiling Shrimp (see where we're going with this "leftovers" paella dish? hahaha). Let it warm through and then toss in the other half of onion – chopped up. Turn the heat down to medium. Wait until the onion is soft and just turning translucent and then add in a tablespoon of chopped garlic.
I added in 3 bags of the Mahatma Yellow Rice pouches which frankly made enough for probably 6 people. So, 2 pouches would've been enough. Stirring it in the hot pan, I added another cup of the chardonnay (which left about a cup for me to drink!) at this point and stirred it a bit till the alcohol burned off. From there, I added the shrimp stock and kept the heat on medium. If the rice takes up 1/4 of the pan, add in 2/4 stock (leaving 1/4 of the pan from the top free so it doesn't boil over). Now, for the crucial step! The step that makes it bastardized paella instead of bastardized jambalaya…add a hefty pinch of Spanish saffron. Yes, it's expensive but it's necessary. Let the pan boil down and then repeat with more stock. Stir it only a bit; this isn't risotto after all! Don't be scared about the rice burning or sticking. As long as you keep the heat at medium, it shouldn't burn. Plus, real paella has a crispy bottom known as socarrat. It should take about 3 times before the rice is ready.
While the rice is boiling down, you should grab the remaining seafood of clams and mussels. Dump them into a colander and rinse all the sauce off. This is important because the broth is already super flavorful and salty. You don't want to add to it with more unadulterated Boiling Shrimp medley mix sauce. So, rinse the clams and mussels thoroughly. Then, grab the reserved shrimp meat and dump it into the now 3-times-boiled-stock rice and jam the clams and mussels into the rice as well. Squeeze a half lemon over the top. Cover the pan with foil and turn off the heat. Let it sit for no more than 10 minutes in order to heat the already cooked seafood through but not let it turn into rubber.
And voila! Leftover a.k.a. Bastardized Seafood Paella.
Ingredients:
**You could substitute any of these "leftover" ingredients for fresh ingredients but keep in mind you have to prep/clean the seafood and actually cook it at the end rather than just cover the pan in foil and let the seafood heat back up.**
1 lbs. leftover shrimp

1 lbs. leftover clams
1 lbs. leftover mussels
1/2 cup leftover sausage
1 yellow onion
6-8 cups of seafood stock
1 lemon
2-3 bags of Mahatma Yellow Rice
1 hefty pinch of Spanish saffron
2 cups of chardonnay or similar white wine
Olive Oil
1 tbsp of crushed/minced garlic