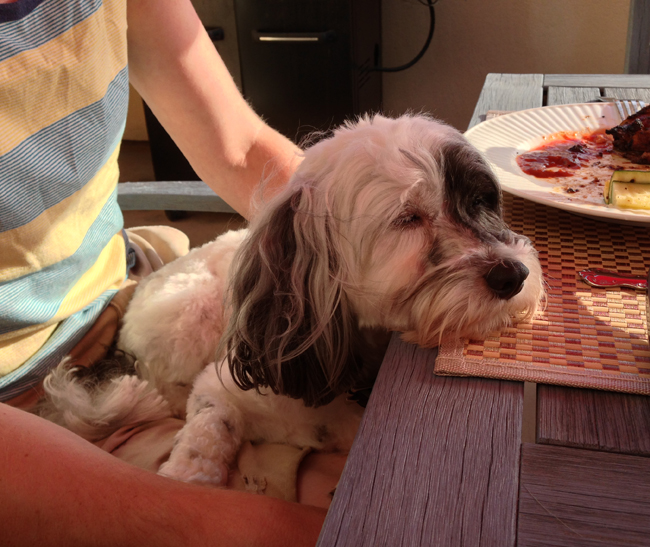 Memorial weekend spent in sun and sangria!
May 28, 2013
I hope you all had a wonderful Memorial holiday. I know I sure did! The whole weekend has been full of equal parts gluttony and exercise. *sigh* Story of my life. The day before, Memorial Day, I ran 6 miles on the beach…without SPF. Ooops. And though I'm not usually a sun worshiper, I did spend quite a few occasions this weekend admiring it's lovely view. Unfortunately, my face did not appreciate it. Slightly rosy and not just form the copious amount of wine consumed this weekend, I did, however, feel healthy, happy and whole.

For the actual holiday, I spent a leisurely day making the aforementioned seafood paella as well as a "leftovers" King's Hawaiian cobbler (recipe to follow). You know, when you're working that hard, you need to make sure you stay hydrated…so, I made a quick pitcher of sangria.
I wanted to make a white sangria but since I don't normally favor white wines, I only had the nice bottles left as opposed to any cheapo ones to make sangria with. Luckily, I found a bottle of cherry wine. I have no idea where this bottle came from but it's been in my cabinet for forever. Plus, my leftover fruit for the sangria included white cherries and a lone apple. I figured it was fate that the crappiest bottle of wine we had was a cherry wine.
After I chopped up all the cherries and apples and submerged them in the wine. I squeezed a whole lemon and tossed it in the pitcher. Upon initial sip, my roomie thought it tasted like medicine. I couldn't disagree. It had a distinctly Tylenol flavor to it (ewww). But I had faith! I figured it'd be fine after the fruit had a chance to infuse into the wine. So, I stuck the whole pitcher in the fridge and when we finally served it, it was delicious.
We rounded the meal out with some fresh BBQ chicken on the grill and buttered squash. With Madeline Peyroux playing in the background, we set the table and watched the sunset. Even little Leah bear enjoyed the day and tuckered herself out with her persistent search for table scraps.