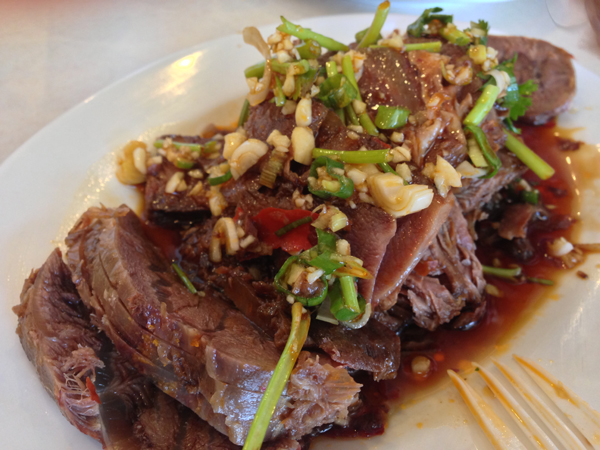 Dumpling House – Gardena, CA
May 29, 2013
On Memorial Day, we hit up the very newly opened Dumpling House in Gardena for lunch. I was super excited to find a place that made xiao long bao's relatively close to me. Dumpling House just opened at the beginning of the month and despite the mixed Yelp reviews, I didn't care. I had to try it if it had xiao long bao's and authentic Chinese food.
We were literally the first table of the day having arrived promptly at 11am when they first opened. Service was slow from the get as we started ground hogging and popping our heads up every few minutes wondering where our water was. Eventually, we were able to flag a waiter down who quickly brought us a pitcher of water. I pretty much ordered a good smattering off their extensive menu.
At this point, the restaurant started to quickly get busy. And a curious thing to note…almost everyone who came in was an Asian female with a white guy. Go figure. hahaha
But I digress. It was all (mostly) about the food for me!
The winning dish of the day was the cold sliced beef with spicy sauce. This is Chinese charcuterie for lack of a better way to typify it to the American palate. The beef was tender and swimming in a Szechuan spicy sauce – i.e. numbing spice. Topped with chopped cilantro and garlic, all the flavors melded perfectly and represented the Chinese taste profile to the T.
The spicy wontons were slightly sweet and could've used a bit more heat. But, out of all the dumplings we tried, these were probably my favorite.
These were a total pass. The rice cakes were over done and almost gloopy. I prefer them to have a chewy consistency with a crisp outer coat from the pan frying.
The cold sesame noodles needed more sesame. But the coarse ground Szechuan peppercorns were a great touch! I would get these again if I were craving them while at the Dumpling House. Otherwise, the best sesame noodles are in San Gabriel. And who wants to drive that far?!
The sliced beef pancake was super tasty. It lacked the fresh, crispy outer shell that 101 Noodle Express creates with their sliced beef pancake. But, the flavors were just right and the beef perfectly tender. If you're in the South Bay and don't want to drive as far as the Westchester Westfield mall for the 101 Noodle Express in the food court, then, I would get these here if you've got a hankering for them!
While the flavor of the xiao long bao's all-pork version was completely fine, it was totally NOT juicy! Everyone knows you get the xiao long bao's for the juice inside. It's really not a xiao long bao otherwise…it's just a dumpling. *sigh* We ate these any way…because we are fatties.
The crab and pork version of the xiao long bao's here were quite tasty but when you have them in Shanghai, there's a discernable crabby texture to the filling. Or as one diner put it, "In Shanghai, you find bits of shell still left in the filling…that's how you know it's authentically crab!". While I don't miss the bits of shell, I did miss any discernable crab meat texture from the meatball dumpling filling. And just to keep it consistent, they didn't have any juice in these either! ugh!
Beef noodle soup is a signature Taiwanese dish. When done right, there are heavy notes of star anise, the acidity of tomato, the brightness of ginger and the sweetness of sugar. When done wrong, it tastes like the Dumpling House. Here, the broth tastes like canned beef broth with a dash of soy and a pinch of sugar. There is no other flavor in the soup. While the piece of beef I got was meltingly tender, another member of our group got what he described as the toughest piece of meat ever – full of gristle…oddly he did love the broth, but then again, he's white and doesn't know what it's supposed to taste like…Oh, it comes in a giant bowl enough for 4 people.
After we received all the above dishes, we waited about 10 more minutes before this final dish came out. I was expecting something more along the lines of a shen jian bao size (pan fried xiao long bao's)…but no, these were more bao zhi sized. The size of a fist! The buns were yummy and tasted like what your Chinese mom would probably make. But they needed to be crispier. We took them home and plan to re-fry them later.
The total came to about $80 with tax and tip for 4 people. Yes, that is somewhat pricey for dumplings and such. But let's calculate the cost of driving out to San Gabriel for the same authentic Chinese dishes and add that to what your time is worth…yeah, I'd rather pay the 30% increase in price for having these dishes in the South Bay. At the Dumpling House, you can get 10 xiao long bao's for $7.95. In NYC, you can get them for $4.95. In San Gabriel, you can probably find them for sub-$5 as well…but not at Din Tai Fung in Arcadia where they are $7.75 for 10. In Shanghai, you can get 10 for a whopping $1.50 (not factoring the $1,000 roundtrip flight, of course :-P).
I will definitely be back…simply because there are no other decent, authentic Chinese restaurants around besides Sea Empress but that's more of a sit down, Sunday dim sum place.