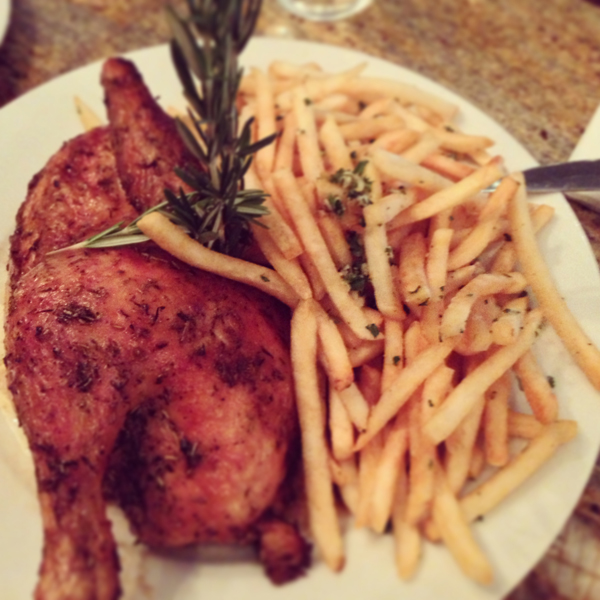 Dominique's Kitchen – Redondo Beach, CA
May 31, 2013
Dominique's Kitchen has happy hour on Monday's only. I went once and really enjoyed the $3 wine and $3 apps like Parmesan Kale Chips.
So, last night, I was in the mood for French food but without all the frou frou trimmings. I wanted a neighborhood feel! That led me back to Domnique's Kitchen. It's super affordable French food done well in a neighborhood atmosphere. My cousin Betty and I sat at the bar where we met its only one other occupant at the time – Steve.
They immediately brought out 2 small complimentary snacks of black olives and white beans with tiny pieces of arugula and a small swatch of brie. I think it was meant to tide us over until service could compensate. Unfortunately, even though no one else was there, service was totally absent. We had to flag someone down just for drink orders! To begin, I started with a glass of the tempranillo $7.50/glass.
And we had to prompt them to bring us a basket of the complimentary bread.
For starters, we went with the escargot (6) and the salt cod brandade.
The escargot is my absolute fave. There is plenty of garlic and buttery goodness. The snail is super tender. We asked for extra bread to dip into the butter/garlic drippings. Totally worth it.
The salt cod brandade is a bit milder than I like and soupier. I prefer the Spanish preparation where it's noticeably heartier. If you ever get the chance to go to Walrus & Carpenter in Seattle, that is perhaps the best preparation of brandade I've ever had outside of Spain – where they fry them in little ball shapes. This brandade was silky smooth, mild in flavor and served lukewarm. The greens were dressed in a sharp lemon dressing which I really appreciated.
We shared a piece of our salt code brandade with good ol'Steve our eavesdropping neighbor and in return, he shared his polenta and lamb chops! That's why I love neighborhood hole-in-the-walls. There's a feeling of camaraderie and community spirit. He gave us a whole lamb chop, some polenta and asparagus. The lamb was tender and not too gamey as lamb can get. The polenta was appropriately rich and smooth with just a bit of texture.
For my entree, Betty and I decided to split the French roast chicken which came with garlic fries ($13.95 for a half chicken). We added a side caesar salad ($2) and a small thing of mayonnaise. The mayonnaise was more of an aioli without all the processed taste of mayonnaise. The chicken skin was totally juicy and the meat piping hot. It was seriously delicious, hearty and rustic.
And finally, while trying to decide between the chocolate mousse or the panna cotta, we ultimately went with the waiter's preference – panna cotta in a berry sauce. It was amazing.
The final bill for 2 glasses of wine each (4 total), 2 apps, 1 entree, 1 dessert was $97.50 including tax and tip.