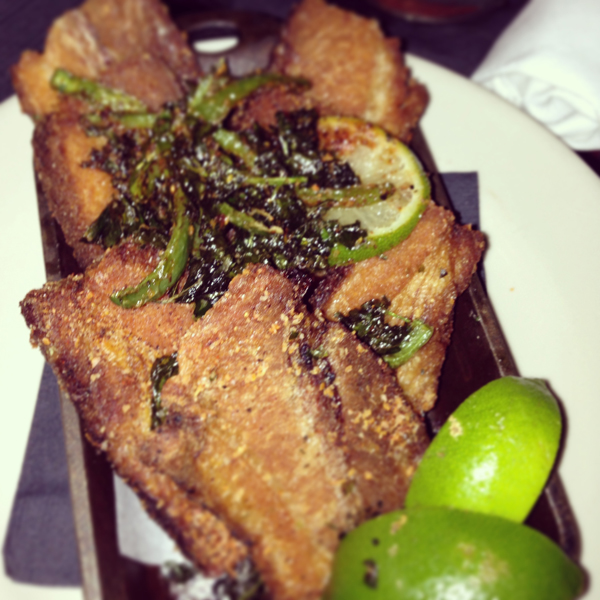 Library Bar @ The Roosevelt Hotel w/food from Public Kitchen & Bar
June 3, 2013
Last night was the L.A. premiere for Channeling a lil' independent film I worked on. It showed at the Chinese Theatre in Hollywood during the Dances with Films festival. We played to a packed house! But pre-show, we had to take advantage of the fact that we were actually outside our regular South Bay neighborhood and enjoy some food and booze with the crew!
The Roosevelt Hotel is a swanky, 1920's Hollywood hotel. Back in the early 2000's up to maybe five years ago, The Roosevelt Hotel had some major hotspots for dining and drinking. Now at days, it's mostly known as a drinking scene. Public Kitchen & Bar has since moved into the space vacated by Dakota Steakhouse. And while it's been there for a couple years now, yesterday was the first time I had a chance to actually visit. We planned to meet the crew at The Library Bar for drinks and on the way from the theatre to The Roosevelt, we almost broke down and bought some dirty dogs from the multiple stands around the corner as we didn't know whether or not The Library Bar actually served food. Lo and behold, they did; they served the Public Kitchen & Bar's food!
The Library Bar is basically the whole lobby bar area of the hotel with another small, side room off the lobby. This is where the main bar actually resides. The short of our experience was that the food was really pretty good if not necessarily memorable…but the drinks were totally pretentious and way overpriced. Each cocktail was $16. What's more, the bartender pretty much refused to make us anything we actually asked for – although, he did refuse us politely. With every protestation of "I don't like to make the same things as anyone else" and "I don't like to make the same thing twice", we found ourselves feeling slightly put off. The good thing was that he promised if we didn't like his creations, he would re-do them free of charge…which happened twice. The bad thing was when we eventually did get the final bill, there was an extra cocktail on our tab. After we went to get it cleared, he asserted that we must have ordered another one that was unaccounted for…I am an accountant. I do not "unaccount" or "under account" for anything. So, I sent another person from our party back to clear it up and she did. They took it off the bill and it was fine. But taking that attitude into account with the pretentious drink-making policy and you pretty much have the tone of the bar.
But onto the food! For the most part, the food was delicious and affordably priced especially for Hollywood. We started with the soft, chewy, rich and salty Parker House Rolls. There is literally nothing to complain about here. They came out piping hot and so soft! My cousin stated that she could've eaten a million of them had we sat there long enough.
**Sorry for the blurry pics! It was so dark and peeps were wrestling plates away!**
The butter lettuce and smoked trout salad was a bit tart for my palate. I felt the dressing overwhelmed the smoked trout. But by itself, the soft texture of the butter lettuce with the lightness of the trout really worked well together.
The burrata was a-m-a-z-i-n-g. I don't know who their purveyor is but holy cheese balls, I wish I knew! The burrata was so meltingly, spreadable and creamy rather than some more mozzarella-like-burratas I've had. It was served with bagnet vert which is a most delectable Italian accoutrement made of parsley, anchovies, capers and bread. A couple cherry tomatoes better described as garnish (as there were literally 2 of them – looks like 4 but it's actually halves of 2 whole cherry tomatoes) rounded out the plate. Perfectly toasted grilled bread held up to the spoon spreading method.
The spuds were so good we ordered a whole other order! It tasted like a papas rellenas without the meat and mixed with some cheese or an arancini without the rice. hahaha It tasted darn delicious! The truffle sauce was light with the consistency of a dressing and the truffle scent was ever present throughout the sauce.
The crowd was split on the next dish – the duck croquette. I found the croquette innards to be a bit dry and tough. Even the rich yolk couldn't impart enough creaminess for me. But one of my cousines, loved the croquette. So, YPMV (your palate may vary).
I was super excited to see this next dish on the menu. Chicharrones are a latin and also a Filipino snack dish. It's basically fried pork belly where the fat is totally rendered and then, the meat is fried. I love how they prep it here. They sliced the belly into thick bacon like slabs as opposed to chunking it into large cubes. I much prefer their sliced preparation as you don't get huge bites of fat as you do in the chunk version. There was no accompanying aioli as the menu noted but it was topped with copious amounts of salt and lime. Oddley, the end pieces lacked flavor while the middle was overwhelmingly salty to the point where it wasn't pleasant to eat. But we still ate it.
At this point, we were mostly full but had room for dessert. Of course. So, we ordered a variety beginning with the best of the bunch which was the creme caramel. It was a chocolatey, caramel, mousse/ganache type confection in the shape of a candy bar. Yummy! This was a unique and expertly prepared dessert.
The apple tart while plentiful wasn't anything special. I've had better and I've had worse. Overall, it was just meh.
The panna cotta was like the apple tart. Meh. We just had an amazing panna cotta at Dominique's Kitchen and Public Kitchen didn't even come close. It wasn't bad…it just wasn't any different from any other restaurant who outsources their desserts.
We did have 2 additional dishes not pictured as it's really hard to hold back a hungry crowd long enough to capture decent pics in the dark. The steak tartare was one of them and like any other steak tartare, I enjoyed it. However, there was nothing really unique or incredible about it. I know, you're starting to see a theme here. We also got the grilled romaine with white anchovies. I found the dressing, as with the butter lettuce dish, too tart and acidic. Plus, I have a near aversion to grilled lettuce. Grilled romaine, however, is a favorite of one of our group members and he didn't even finish the plate despite 5 other people helping. So, that probably gives you an indication that we didn't really care for it.
The total damage was $420 including tax and tip for 6 people. Yes, you heard me right. We got 2 cocktails each plus all the aforementioned dishes (8 dishes and 3 desserts). It was not worth it at all. That's $70 per person. They add 20% to the check if you even spend $100 and no matter how many people are in your party – note to self, cash it out next time after each cocktail order. 😉
I'm not against tipping 20% when people are worth it but in the state of California, wait staff are paid more than minimum wage most of the time and even minimum wage isn't the normal wait staff minimum wage we know from the midwest (which is $3.67/hr for wait staff and $7.35/hr for everyone else)…it's actually the state's minimum wage. I used to do the accounting for hospitality companies in L.A. and we paid our wait staff $10/hr a lot of the time. My policy for tipping is 18% if it's normal service, 20% if they go above and beyond and 15% if they suck. Like I said about the bartender, he didn't suck…he just rubbed us the wrong way. *sigh* It wouldn't be worth a special drive out there if you're not near H'wood already but as far as a cool, low key vibe with a great ambience? The Library Bar will do. Just don't order more than 1 cocktail. Save your pennies and go elsewhere for actually drinking.