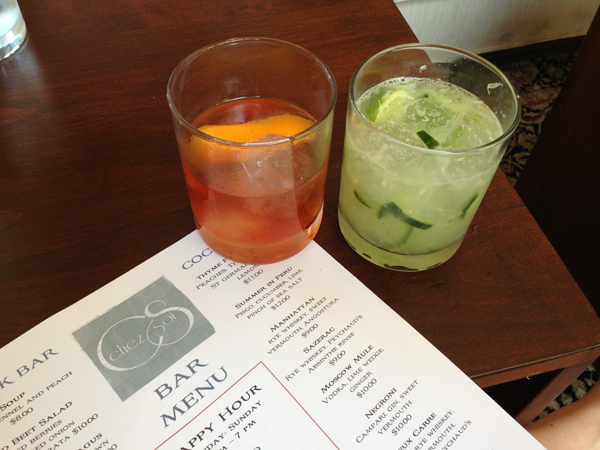 Chez Soi [Happy Hour] – Manhattan Beach
June 4, 2013
Chez Soi is the new restaurant in the old Sashi Sushi space in Manhattan Beach. I loved Sashi but for whatever reason, they couldn't make it work and it shuttered to make way for the collaboration between a frenchman, a TV star and noted chef…yeah, it almost sounds like the beginning of a punchline. But Chez Soi is anything but a joke. The food is delicious! And I wouldn't expect anything less of former Eva proprietor and chef, Mark Gold who now helms the Chez Soi kitchen.
I used to love the feel of Eva with it's casual but still classy feel. The food was always rustic but the flavors so carefully crafted. What I didn't love about Eva was the tendency towards particularities…for instance, on one such Sunday Supper night at the ol'Eva, they were serving fried chicken…without hot sauce! Blasphemy! hahaha But in all seriousness, we begged and pleaded for some hot sauce…any hot sauce and they were finally able to scrounge up some Tapatio from the kitchen staff's stashed supply like some contraband condiment. Mark Gold was also known to have responded to a few negative reviews on Yelp. My family owns restaurants in the midwest so I get the overwhelming desire to respond…but the best advice I can give is just don't do it. And honestly, at least for me, he never had to defend his food. Even with his penchant for particulars, Eva was one of my favorite make-the-drive restaurants. I was sad to see it shutter and ecstatic to see him reestablished in my neck of the woods!
I hate wasting calories and even more than that, I hate wasting my time, so, I rely on my internet sleuthing skills to do my legwork for me before I venture out to a new restaurant. Unfortunately, there was very little info on Chez Soi…no blog reviews, no menus posted, very few pics…so, I took one for the team on this one. I went into it blind! I did, however, call and inquire about a Memorial Weekend special they ran with all-you-can-eat (AYCE) moules frites + house beer for $26. I saw on their twitter that they had it again after Memorial Weekend and so I inquired if they were still offering it and was informed that they would be offered every day during happy hour as well as Sunday for dinner. Sweeeeet.
I love the feel of the place. The calm blues and neutral beachy palette are perfect for the space and area! But while the banquette seating was super comfortable, the tables were tiny and impractical for eating…or maybe people don't usually order as much food as we do? Oops.
Shane, the week old, very new bartender (originally from Picca) came over to greet us and ask for our drink orders. He informed us that he just came on board and would be revamping the cocktails list. We described our penchant for Old Fashions and citrusy-spicy drinks and he said no problem; he would make something special for us. He came back with a mezcal made old fashion and a Summer in Peru which is a delightful concoction of pisco, cucumber, lime and a pinch of sea salt. Those are all my favorite drink components! The only thing I needed was some chili! But alas, apparently French food and American rustic cuisine does not require chilies and so they had none in stock. Boo. The mezcal old fashion was made with agave, so, it really tempered the burn you would get from drinking a regular old fashion. As a lady, I appreciated the softening effect. 😉
Chez Soi has many cheeses in house. For the happy hour cheese plate, you describe the kinds of cheese you like and they bring out a little sampling. We said goat cheese and bleu cheese and that's exactly what they brought out. I honestly WISH I knew what kind of cheese we had. It was amazing. Served with a drizzle of honey, there was literally nothing left on the plate. We asked for more of the deliciously chewy rolls and scraped every last bit off the plate as we wiped it clean. I could wax poetic about the rolls with their squishy insides and crispy, buttery bottoms.
The AYCE option is great if you're a big eater and not planning on eating anything else. That was obviously a totally unrealistic option for this foodie. But I ordered it any way purely for journalistic purposes, of course. haha The mussels were cooked perfectly. They were plump and juicy – not a single one of them was rubbery. But the sauce lacked flavor. I love moules frites in the classically French preparation with butter, white wine and garlic…and while there was plenty of visible garlic and butter, I think it needed a touch more white wine and more than a pinch of salt to really bring out the lovely sea flavor. But the mussels were undeniably fresh and I didn't leave a single mussel on the plate. Annoyingly, the frites came out way after the mussels. But they did come out fresh, perfectly fried and piping hot. Each fry was seriously crispy on the outside and creamy on the inside. Incredulously, none of them were over fried and even more surprisingly, there wasn't a mushy one in the bunch. And even though I prefer my fries mushy, these were so perfectly fried, I actually enjoyed the crispiness.
The best part about the happy hour menu? The ol'Eva's fried chicken was right there listed at the top. I couldn't believe it. We ordered it ASAP. And even better? It came with a homemade butter hot sauce closely akin to buffalo sauce. O.M.G. We used this hot sauce on everything. The chicken was just as I remembered it. It was seasoned just right with a batter so well fried that biting into it made a signature and audible crunch. We ended up ordering 3 total orders of the fried chicken. Yeah, we are total fatties but if you try this chicken, you will be too. The first piece we received was a breast and a wing. The second order we received was a huge thigh. The third order we received was a thigh and a leg. It's like chicken roulette…which one will we get!…Except everyone wins no matter what piece comes out the door!
Our final savory dish was the cheesesteak which ended up being quality, thicker sliced steak as opposed to the thinly sliced almost indiscernible steak that most cheesesteak stands use (which, don't get me wrong, also taste delicious!). They were served on the same rolls that accompanied the cheese plate, so, they were more like cheesesteak sliders. I loved the rolls, obviously. And I loved the steak. But the cheese was lacking…I'm not sure what kind they used…if any. I couldn't actually taste any cheese. Due to the lack of cheesiness, the meat itself needed to be flavored more and seasoned – nothing that a pinch of salt couldn't fix. Too bad there were no salt shakers in sight. Luckily, we had an epiphany and bathed these in the chicken hot sauce; the blandness was soon washed away in a torrent of awesomeness.
There are no desserts on the happy hour menu. There's no dessert menu actually. But they do offer dessert in the form of 3 options: chocolate pot de creme, caramel pudding and also, donuts. I went with the most excellent pot de creme despite my weakness for caramel puddings and budinos of the same ilk. The pot de creme was so creamy and the chocolate flavor was deep and rich but not bitter and also not too sweet either. The accompanying quenelle was an airy scoop of whipped cream. Light and luscious, it was the perfect foil to the thick mousse.
We had also ordered the oysters (3 for $6) but apparently, they were out and Shane didn't know it till we inquired as to how raw oysters could be taking so long. While there were a few minor missteps like the aforementioned under seasoning on a couple items and the random food bearers who would forget to bring spoons for dessert or extra silverware after they cleared used silverware and they also forgot our house beer with the moules frites…overall, the food was so, so good and the atmosphere felt relaxed. When the food was on point in execution and seasoning, it was AMAZING and when it wasn't, it was still at least very good. They've only been open about a month, so, I'm sure they'll work any kinks out. While we were there and even as we left, things were quiet. It's probably due to their lack of marketing and internet presence. I literally scoured the interwebs for any info and came up with nothing beyond the fact that it's a French/American farm fresh/rustic concept with Mark Gold in the kitchen…and that was enough for me but not everyone has a history of being an LA foodie. So, I hope they step it up and get the word out so that business picks up and everyone catches on to how awesome Chez Soi is! I will definitely be coming back to try their dinner service soon!
The total for 4 cocktails, 3 orders of fried chicken, 1 order of AYCE moules frites, 1 cheesesteak, 1 cheese plate, 1 dessert for 2 people (yeah, there were ONLY 2 of us eating all that food…don't judge us.) was $104 including tax and tip. Not bad at all for the amount and quality of the food. Happy hour runs daily from 4-7pm.