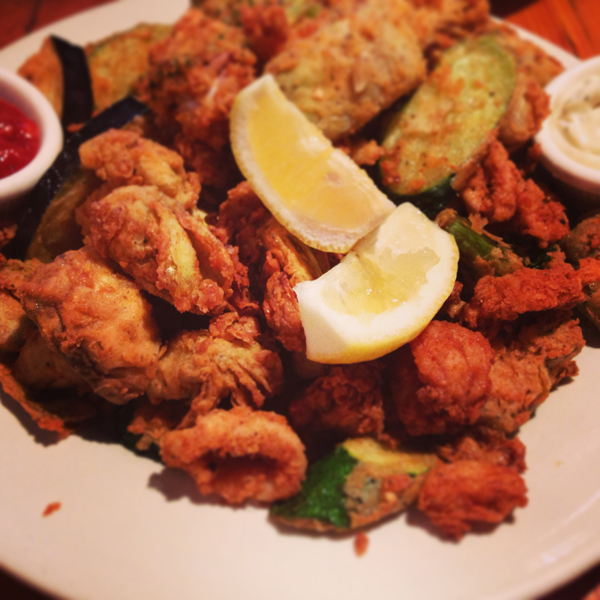 Fantastic neighborhood Italian @ Fritto Misto – Hermosa Beach, CA
June 6, 2013
I love fancy meals as much as the next gourmande but there's something so warm and satisfying about dining at a neighborhood restaurant…especially when it's as good as Fritto Misto. Fritto Misto is in Hermosa Beach right on Pier Ave. on the way down to the strip of bars/club along the beach. There is almost always a wait starting as early as 7pm. It's the kind of casual eatery where families love to congregate. The portions are plentiful and the prices more than fair even with its prime locale.
Roomie Melissa was starving today. We convinced ourselves that we would run it off, so, carb loading made total sense…We are liars.
After a long day (or any day), I prefer a glass of red wine and their $5.50 glass / $16.50 bottle of Sangiovese Chianti absolutely satisfies. And while I demurely ordered a single glass, I secretly knew that Melissa would only sip hers before needing me to finish the rest; like most other Asians (not myself, thank god!), she's allergic to alcohol.
With my penchant for red wine, it's a good thing bread soon followed. The bread here is delicious! Crunchy crust and soft innards! The best part is, they have a bit of a secret garlic condiment. If you don't know to ask for it, they may not bring it to you. Ask for it. It doesn't even matter that you'll taste the garlic for days after; it's that good. I think it's basically crushed garlic. We mix the garlic with 2 parts balsamic and 1 part olive oil. And then we douse the whole thing in parmesan and mix it up. It's the perfect dipping sauce for the bread.
Some peeps are not as savvy and we spied our neighbors using *gasp* butter when they could've had this amazing concoction instead. Don't let that be you.
We started off with the restaurant's namesake – the fritto misto for 2! It is a fried mixture of veggies and seafood (calamari and shrimp). Everything is fried to perfection. Don't let it sit for too long because the zucchini, eggplant and mushroom tend to soon wilt. But when it comes out piping hot, everything is crispy and wonderfully coated in the well seasoned batter. It's served with a mildly tangy white sauce and a zesty cocktail sauce. I prefer the white one with the veggies and the cocktail sauce with my seafood. No less than 2 different parties inquired as to what the dish was…it looks THAT good.
Melissa convinced herself that by ordering a salad as a starter, it would somehow negate all the carbs we were about to eat. The salad is a spring mix with a generous amount of chopped tomatoes, a sprinkle of gorgonzola and a pinch of walnuts. Everything was tossed in the dressing despite the fact that we had ordered the dressing on the side. Oh well. The place was packed and service was urgently efficient, so, I couldn't really blame them for this mild mixup. The good thing about a place like this is that it's small enough to flag people down when you need them – very helpful when the place gets as busy as Fritto Misto.
And now for the carbs.
Carbs are my crack. They are the one addiction (okay, maybe red wine too), I just can't kick permanently. I love pasta. I love rice. I love bread. I feel like I could turn my devotion into a theme song. But I digress.
I ordered the Il Carnivore which is usually fettuccini topped with a bolognese and filet mignon steak tips. Today, however, I felt guilty for all the bread and impending carb'ing that I ordered the high protein / low carb option. Truthfully, I don't miss the regular pasta when I order this healthier version. It's pretty close (if a bit grainy and softer as low carb pastas can't be made al dente…at least not yet) and it's only 10 g of carbs per serving. I assume a serving is probably 2 oz. and my plate probably had 4 servings. With a healthy sprinkle of crushed red chili pepper and parmesan, I was able to shovel about 1/4 of the huge plate before I had to tap out. Damn you too tight jean shorts!…or should I say thank you?  😛
Melissa went with the Shrimp & Artichoke Lemon Gnocchi which was as it sounds – gnocchi covered in a lemon cream sauce with shrimp and supposedly artichoke…although, I didn't see any artichoke nor did I taste any for that matter. But regardless, the dish was delicious! The gnocchi is super soft and pillowy. I've had some bad gnocchi in my time – too hard, too dry, etc. – their gnocchi is pretty much amazing. The sauce was light, yet the lemon flavor was at the forefront. And the softness of the gnocchi with the sauce made everything taste and feel so creamy!
The cost including tax and tip for 2 glasses of wine, 2 apps, 2 entrees, and unlimited bread (we had a gluttonous 3 baskets full) was $75. Since this place is a family magnet, you actually get seated faster if you're a 2-top. Either way, go earlier to avoid the wait or later to avoid the kids. hahaha