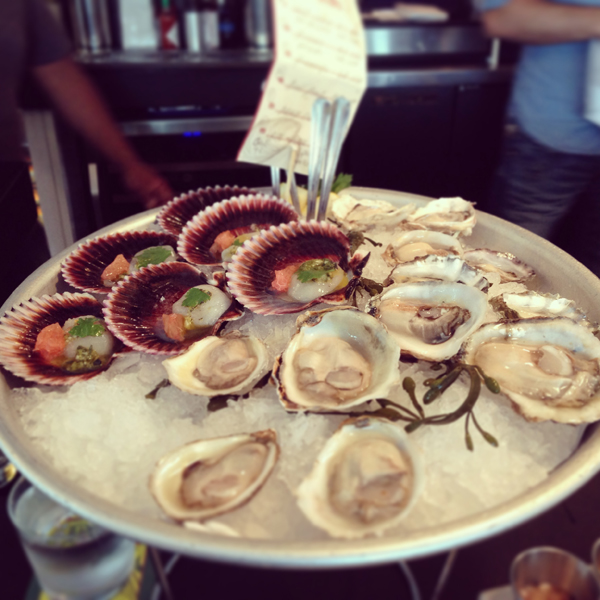 Fishing with Dynamite nets some awesome seafood! – Manhattan Beach, CA
June 10, 2013
After a hectic day of errands and runs that took me as far as Simi Valley (ugh!), I was able to get home at a decent hour…in fact, I was able to get home in time for happy hour! So, we looked for a new destination in our hood. Fishing with Dynamite has been on my radar since before it opened. But as with any highly anticipated restaurant opening (of which we have too few in the South Bay), this place was sure to be packed whenever I did think to go. While FWD has no happy hour (boo), the food was nonetheless delicious (albeit, definitely not cheap).
We arrived a little after 4pm and promptly sat at the bar. The place was already half full by the time we were there. Keep in mind, it is a tiny dining room. The bartender, recommended a nice white to go with the anticipated oysters the place is so well known for. The muscadet was fruitier than I liked but also dry, and as with any wine, I'd drink it regardless.
Due to our affinity for old fashions, we asked the place to make us their version. And they made us a serviceable rendition.
The menu here, as one might expect, is very seafood slanted. So, non-seafood eaters may want to look elsewhere.
We started with the squash rolls. While the insides were gorgeously chewy, the outside had the somewhat stale-been-sitting-under-a-heat-lamp feel. I ate it anyway and dressed it up with generous amounts of butter.
Now, we've been known to eat more than 3 dozen oysters in one sitting…for 2 people…we showed restraint this time and simply ordered the oyster sampler dozen along with a half a dozen peruvian scallops. I looooved the scallops! They were served with a dollop of yuzu and grapefruit. So refreshing! The oysters were very fresh; my favorite were the kushi oysters which were briney and bright in flavor.
Looking for a bit of a twist on an "old fashioned" (get it? *chortle*), we went with the bartender's suggestion of a manhattan instead. A bit too sweet on the first take, the bartender obligingly made us a re-do. That is very much the attitude here at FWD; they aren't happy unless they do it right.
As much as I love octopus, it can get dicey with how easy it can get chewy and tough. I usually refrain from ordering it but I knew I was in good hands at a seafood restaurant headed by such a renowned chef as David LeFevre. This octopus did not disappoint. It was grilled perfectly. I loved the beans with it which made a nice counterpoint to the acidic tomato relish topping the dish.
This next dish was a controversial one for us but was soon resolved with utmost professionalism. The seafood soup is supposed to be a bit of an homage to the Thai coconut curry soup. It's one of our faves for any Thai meal. When it came out, we each took a sip with baited breath…only to taste…nothing. It was totally bland. This was a big letdown after the bartender had warned that it was very flavorful and had a kick. Bemused, I waved him over and asked him to taste it. He said he would take it directly to the chef to taste and fix the situation. In no time at all, he came back and informed us that the chef was appalled the dish made it out of the kitchen like that and he had instructed his sous chefs to throw the whole batch out and re-do it for us. Let me just say that the dish wasn't patently offensive, it just tasted like water and blandness. When we received v. 2.0, it was like night and day in flavor! This one had a robust kick. Remember those slightly stale-only-on-the-outside squash rolls? We rehydrated them in the soup and it was a-m-a-z-i-n-g.
This next dish while nothing revolutionary was executed so perfectly that I hazard to say it is one of the best preparations of salmon you will ever have. The skin was so crispy while the meat was absolutely medium and tender. Yes, by American portioning, the size of the dish is somewhat petite but since we had ordered like half the menu, we didn't mind as we were already hitting our limits.
One of us was busy eating and the other was busily making friends with our neighbors, so, ONE of us was still hungry. I ordered him a filler of french fries to make him happy. They were fries. Enough said. Oh wait, no, they tasted even better after a bath in our neighbors-turned-friends' clam chowder.
On the advice of the bartender, once again, we added a last minute crab cake to our order. Both he and our neighbors asserted that these were no ordinary crab cakes. They totally weren't. The cakes were well seasoned but tasted wholly of crab with it's delicate, tender meat. I loved it. While the $16 price tag for a single cake may make me hesitate next time, the quality is undeniable. And that is worth a pretty penny for sure.
The final dish of our seafood cruise was their heavenly key lime pie. This is larger than a mini pie but smaller than a regular sized pie. Definitely enough for 3 peeps…or 1 Asian girl with an affinity for key lime. The crust had the nostalgic texture of graham crackers while the whipped peaks were light and fluffy. The play on textures was a carnival for my mouth. And the key lime filling was absolutely fantastic – tart and not too sweet!
The whole meal was about $225 with tax and tip for 2 glasses of wine (the 3rd was compliments of our new friends Kim and Bill), 3 cocktails, a dozen oysters, half a dozen scallops, seafood soup, squash rolls, french fries, salmon, crab cake and key lime pie. Whew! We will totally go back when the seafood craving hits us next. It's the kind of place that lends itself to getting cozy with your neighbors and establishing yourself as a regular among the many regulars in this small beach community. Can't wait to go back!