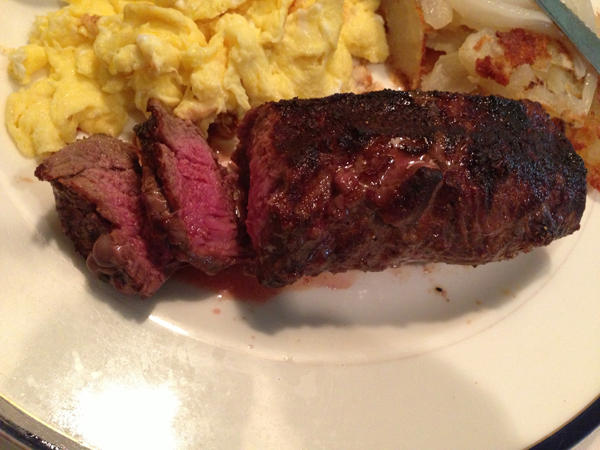 Fancy 24/7 nostalgia at the Pacific Dining Car – Downtown L.A., CA
June 13, 2013
A client of mine wanted to meet over breakfast at the Pacific Dining Car in downtown Los Angeles. They have another location in Santa Monica as well. Unfortunately, my client was totally AWOL! *sigh* Not one to waste a new food opportunity, I settled in for a relaxing breakfast solo.
Be advised, there is seriously no signal (with Tmobile) inside and even though I see a PDC_LA locked wifi available, apparently it's not available to customers. Luckily, they do have many different newspaper options. So, I chose a copy of USA Today and perused the menu.
As old as it is, it has a charmingly stuffy, grandma formal decor. I appreciate the stodgy surroundings and matching formalities. There's something to be said about the nostalgia of yesteryear.
Fancy china and linens were brought to the table along with my uber expensive coffee. Seriously, $5.95 for a cup?! I'm glad they were so on top of refills. I had to constantly down it if I wanted to drink my fill in value! So Asian, I know.
The prettiness continued with the arrival of toast and jam!…The most formal arrangement of accoutrements I've seen outside of afternoon tea in London.
My main course arrived with the toast and I went with the pricey sirloin and eggs. They are somewhat known for having quality steaks available in a 24/7 restaurant, so, I wanted to give it a shot. They only had 2 options though: filet or sirloin. Given how expensive the meal was already at this point, I went with the slightly cheaper option. I honestly don't like sirloin or filet. There's just not enough fat to be tasty. And true to it's name, this steak was super lean. I appreciated the thick cut and perfectly medium rare temperature. But at the end of the day, fat is where the flavor is. I had to doctor this dish up with a lot of fresh cracked pepper and salt. The eggs were also more medium-hard scrambled than soft-medium. *sigh* I hate overcooked eggs and these were just a touch overdone. I was, however, really excited to try the lyonnaise potatoes…but these looked more like regular sautéed potatoes topped with a bunch of onions. I'm more accustomed to the creamy, buttery type of lyonnaise potatoes. As such, plain sautéed potatoes were a letdown.
With tax and tip, the total damage was $35…for one. One single entree. One cup of coffee. One person. If I'm feeling like quality, fancy brekkie in a formal environment any time after midnight…I may come back to the Pacific Dining Car…but those are a lot of conditions to fulfill. Otherwise? For a quality breakfast in the same kind of lavishly formal atmosphere, I'd go with the Langham in Pasadena.