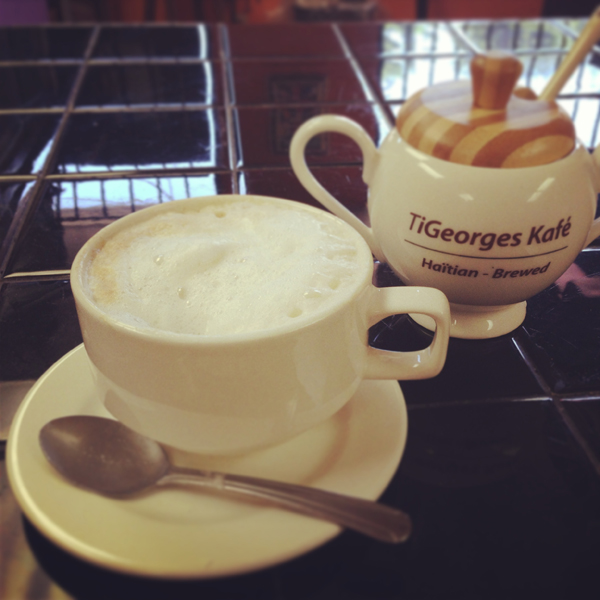 Awesome Island feel and Haitian flavor at TiGeorges! – Downtown L.A., CA
June 15, 2013
Remember that morning meeting that went AWOL last Monday necessitating my solo brekkie at PDC? So, we rescheduled and I again made my drive to downtown L.A. As usual, he was running late and so I took the opportunity to pick up some lunch for us. Scanning my list of Yelp bookmarks, I opted to cross one off my "To Try" list and TiGeorges Haitian cafe was it!
I am part Cuban (in spirit) so any opportunities for island cuisine, even Haitian, is totally right up my alley! TiGeorges suffers from a somewhat unfortunate locale – not close enough to the business downtown AND a bit hard to spot. Based on their mostly empty dining room, I would say other potential customers might agree if they knew about the place! The thing is, once you find it, it's seriously awesome. Having run restaurants, bars and clubs in L.A. before, might I suggest stepping up the social media presence and offering delivery to all those business commuters in the heart of the L.A. financial district? I think it'd really help considering their fantastic lunch specials!
Business hat aside, let me get on to the most excellent restaurant and food! The decor is cheery and tropical. It was a bit stuffy as the A/C wasn't running but I'm sure if I had asked they would've turned it on.

As I was ordering for 2, I ended up getting enough for 4. True Asian style. I think that's the actual formula…double the amount you need for the quantity of people and you've now ordered like an Asian. I got the whole chicken meal with moro, salad and coleslaw for $23.95 and I added tostones too. Since I had a while to wait, I ordered a Haitian coffee as it was much lauded on Yelp. I am a coffee fanatic. My favorite is Cuban coffee…but Haitian coffee is definitely a close 2nd! There's almost a savory like quality to the coffee. And for once, I couldn't place what I was tasting. The friendly proprietor did promise it would be like no coffee I've ever had and he sure didn't lie. It was intriguing and mysterious…I loved it.
After a short 10 minute wait, my meal was ready to go! I grabbed the hefty bag and shortly arrived at my destination where I unpacked all the goodies. Even after a total drive time + wait time for my friend to walk me up to his place equaling 10 minutes, the tostones were still crispy and hot! Apparently, SOME people thought that all platanes should be sweet instead of like the savory tostones…so, he put chocolate syrup on it. Gross. Seriously. Gross. But he proclaimed it to be amazing and insisted I try it. I passed. Why ruin something so perfect?
After we pilfered a few pieces of chicken and scoops of moro (beans and rice), I latently remembered to snap some pics. Even so, you can see the generous portions! The chicken was well seasoned and juicy. I wish I had eaten it there as the skin did not hold up as well as the tostone did riding in its steam container of styrofoam. The moro was also super tasty and well seasoned. I love when cooks aren't afraid to season assertively.
When I first received my order, I belatedly remembered to ask for some hot sauce for the chicken. Their version of hot sauce is the Ti Malis sauce which according to a quick google involves shallots, garlic, chilis, etc. It's more like a chimichurri in concept – oil/vinegar mixed with herbs/chopped up goodness. Whatever it is, I could put that on anything and everything savory and it would be delicious. Surprisingly, their version isn't all that spicy; you could probably put it on fish too and it wouldn't overwhelm the flavor. Do not leave without getting this sauce.
The spread for 2 peeps was impressive to say the least.
The only item I didn't touch was the salad due to my aversion to greens. But my lunch guest seemed to enjoy it as a healthy filler.
I wish I lived closer so that I could go to TiGeorges more often! The place needs some serious blogosphere love in order to generate some business and keep the awesome dishes coming! I really want to go back for the acra (fried fritters) and griot (fried pork meat). Maybe yelpers can hold an event there?! Something! I can't keep over ordering, people! Go. Now!
My meal for 4 cost me $40 (including tax and a $5 tip). The actual cost was about $35 if you don't tip for take out. Sure, for 2 people, it's a bit expensive but this was food enough for 4 and at less than $10 per person ($35 / 4), that's pretty much a steal in L.A.!