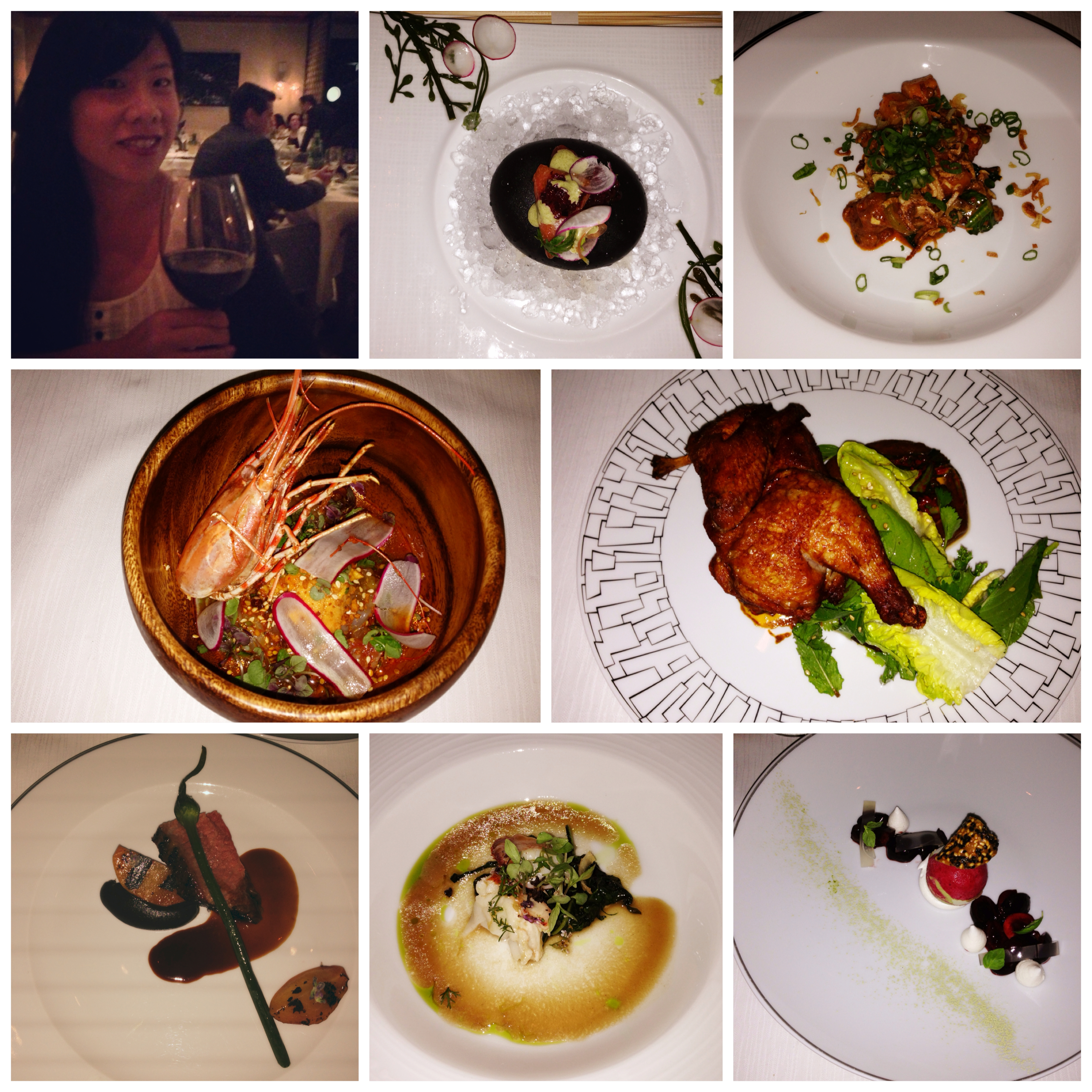 Meal of the Year: David Chang, Roy Choi and Wolfgang Puck @ Bel Air Hotel – Bel Air, Los Angeles, CA
June 19, 2013
When I found out that David Chang was coming to LA for one night only to cook a dinner with Roy Choi (A-Frame, Lukshon, Kogi, etc.) and Wolfgang Puck (Spago) at the Bel Air Hotel, I had to get a reservation. I subscribed to the Bel Air hotel Twitter feed and linked it to text me every time they tweeted. Do you know how utterly annoying it can be to receive tweet updates along with your every day messages, emails, et al? But I braved it. I weathered it in the name of scoring one of the best reservations of the year!
Unfortunately, on the day they announced the dinner on Twitter, I was in NYC meeting with a client in a building inhospitable to cell reception. I kept excusing myself to try to get a signal and make a simple reservation. Alas, by the time I got through to a human, they were already wait listing. I was aghast with horror. I had to have a reservation! I was placed on the waitlist.
The trauma soon passed and I eventually forgot about the epic event…until one fateful day before the dinner…when I received a call notifying me that someone had dropped out and I was slated to take their place! I had a res for 4! Last minute though and hard pressed to find similar like-minded foodies willing to splurge on such an event ($190 + $80 wine pairing), my good friend Tara obliged me and I was relieved I wouldn't have to dine alone. There is a time and place for dining alone and it is definitely not at a dinner such as this one. Sadly, my other 2 spots went to waste as no one else could make it. Their loss.
Upon arrival, we valeted ($8.50) and trekked across the whimsical bridge rather quickly as we were both starving. I had fasted for the occasion with only a couple protein shakes to satiate me until this dinner. The hotel itself has a serene vibe almost like you're in a secluded getaway.
Though we wanted to be seated outside, we didn't put up much of a fuss when they sat us at an interior table. We were too weak with hunger to protest!
Service was a bit slow but ever so gracious which I suppose is to be expected on such an occasion as this one! He eventually made it to our table to get drink orders.
The first course was amazing tuna toro. It just tasted sooo fresh! And after a scant two "bites", we were ready for the next one!
This dish was a highlight both visually and flavor wise. I love uni any way and combined with the raw spot prawn, I was in heaven with it's comfortingly familiar Asian flavor. I did it up Asian style and ate the meat out of the prawn carcass and sucked the juices out. Yes, there was linen on the table and excessive dinnerware but that did not deter me from getting the most value out of my dollar in comparison to other money wasters and dainty eaters.
Tara found the next dish way too spicy for her liking. Now, as an Asian who grew up on spicy foods, even I can say that the dish was spicier than establishments will usually make for their American centric clientele. But I enjoyed the heat. Tara, however, downed both her glass of water and my own. The dish itself was well prepared and seasoned. I love the rice cakes!
At this point, the next dish (lobster) was taking forever. Both tables on either side of us had finished course #5 and were clearing way for the final course as we still sat waiting for our lobster course. The waiter felt terrible for us and got us both a drink on the house! Awesome customer service! I only really noticed the wait after my wine ran out any way so I suppose if things are ever in the weeds in the kitchen, dole out some quality booze gratis and no one will complain.  

When the lobster came, it was perfectly cooked and not tough. The flavors didn't overwhelm this dish but were still unique to the night's dinner with a slightly Asian feel to it.
The game hen was one of my favorite but one of Tara's least favorite dishes. I loved it for the kimchi and picked veggies as well as the fresh herbs. They all really helped to cut the richness of this dish.
This beef shortrib was unlike any other shortrib I've ever had. The meat was cooked perfectly tender and not braised to hell like most shortribs. I really enjoyed the meaty, toothsomeness of the shortrib. The flavors while good and satisfying did leave me wanting a tad more punch. Luckily, the dish did come with a side of veggies – some pickled, some fresh. The homemade kimchi was great for adding acidic notes and cutting through the fat.
After we ran through all the savory courses, it was time for dessert. Normally, I'm very much a chocolate girl and consider all other desserts inferior…this made me reconsider. I could put the yuzu meringue on anything and it would be yumtastic!
The final bill came and the damage was ICU worthy. Overall, I paid $265 for 1 person including tax and tip + 1 glass of Tempranillo (as the 2nd glass was free!).
Each guest received a gift bag at the end with Wolfgang's newest cookbook…and even more awesome…Compost Cookies from Momofuku Milk Bar! These have everything in them – chips, pretzels, butterscotch, coffee, chocolate chips, etc. I restrained myself and only ate 1 but what I wouldn't give to eat another…and another…and another!
Finally, as we made our way out, we detoured at the Lobby Lounge to admire its gorgeous setting. Who wants to chill out and grab a drink with me there next time?
As pricey as the meal was, it was the experience that was worth more than the cost of the meal. People really don't invest enough in life experiences. We are only on this earth for too short a time. We should enjoy it and live it to its fullest. Obviously that doesn't mean shirking your duties and becoming a totally worthless human being; quite the opposite! Find the balance and don't forsake work for pleasure or vice versa. Besides a fabulous meal with a great friend, we made the acquaintance of the couple next to us. They've been married 33 years. And you can tell they really enjoy their life together. I aspire to achieve that! Love loyally, live meaningfully and the rest, just handle as it comes up.