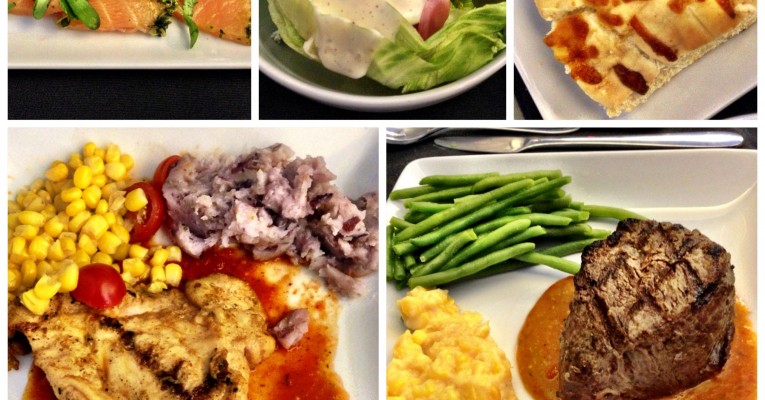 AA130 – ORD to HEL [Business Class]
January 22, 2014
We purchased our roundtrip flights for about $1,285 each. I flew from LAX to ORD to HEL. This was the tail end of summer and still the height of the travel season. So, I didn't think the price was too bad. Sure, we could've saved that money if we had used points to purchase our flights, but we needed the mileage for elite qualifying as we hadn't requalified yet for Executive Platinum status on AA.
There are a lot of travel bloggers out there who are fortunate enough to be able to focus solely on maximizing their frequent flying returns by mileage running only when the price is X cents per mile. Unfortunately for my sister and I, we don't have that luxury. We travel when we can get away and that means we're at the mercy of the market price at that time. Because we care about attaining and maintaining elite status, we have to purchase our tickets until we've achieved status for the year and then we can coast by using miles instead.
I like front loading my flying in the first half of the year so I don't have to worry as much about qualifying towards the end. I've definitely done the whole fly-45K-butt-in-seat-miles -in-2-months thing and it is exhausting. The added perk is that by the time Thanksgiving rolls around, I've usually requalified and can use my points for the most expensive travel time of the year…holidays!
This flight earned us 12,362 elite qualifying miles and cost us about $0.10 per mile. The modern day frequent flyer considers $0.05/mile a steal and $0.07-ish/mile the norm. So, we did pay more but again, we flew during peak travel season. Plus, when I consider it was in business class (using my system-wide upgrades), I didn't feel too bad about the upcharge for the season.
Now, One Mile at a Time does a great review of what American Airlines offers on its flight from Chicago to Helsinki. So, I'm not going to focus on that. As a foodie, I'd rather get to the real meat of the matter for me…the food! I understand that certain people may think that airplane food is well…airplane food. But as with anything there is a spectrum of seriously inedible to startlingly seasoned fare across airlines.
All AA business class meals start with salad and a little appetizer. American Airlines offers the choice of a cream based dressing or balsamic vinaigrette. I can't help it; the fatty in me always goes for the cream sauce. I justify it by saying I'm on vacation…but with how often I fly, I really don't think it's a viable excuse anymore. But this time was no different. I went for the pepper cream dressing.
I loved the pickled onions and savory pecans. Truthfully, I could barely taste any pepper in he dressing and I wish they topped the salad with more bleu cheese. But overall, I'm a sucker for a wedge like salad of plain iceberg lettuce.
The salad came on a tray with the appetizer which was smoked salmon with some creme fraiche. It tasted pretty fresh and wasn't too smokey. The salty slices worked really well when eaten with the warm cheese bread and butter. The bread was slightly too toasty with the edges a bit tough but that's okay. I just cannibalized the innards instead.
Lucky for us, the menu for the flight included a Richard Sandoval signature dish of Adobo Chicken served with achiote truffle sauce, purple mashed potatoes and vanilla-scented corn. I went for that one even though I usually go for the beef option. My standard rule for airplane entrees is usually the same rule I apply to wedding food…never go with the chicken; it's almost always dry and unappetizing. However, American's chicken dishes consistently make me reconsider. They use bone-in, skin-on chicken which really helps to retain the moisture. I also have no doubt they brine it to keep its juiciness.
The plating was a mess. If you ever fly the Asian airliners in business or first class, you'll notice a marked difference in attention to detail and customer service. In the grand scheme of things, as a flight attendant, is it hugely important to clean up a plate and ensure the food is plated as intended? Probably not as they are "there for our safety" and not our comfort. However, as an airline business, it is important as it affects the product they're trying to sell to the public and that, in turn, affects the revenue of the company. I don't want to rant about it but whether or not they want to be service providers or safety personnel, flight attendants for all intents and purposes are actually both. To behave differently only affects their own job security as they live or die with the airline's success or failure. Ok, rant over. Back to the food.
My sister ordered the grilled beef tenderloin with charred Romesco sauce, corn puree and haricots verts (another Richard Sandoval dish). More often than not, AA also does a good job of serving their meat medium rare. I have had only a few occasions where the meat has been more on the rare side (which is fine by me!) and even fewer occasions where the meat has been overdone. This one came out just fine. I felt the Romesco sauce needed more seasoning. The corn puree was delicious. I sometimes wonder if I could bring my own condiments with me on the plane…and if that would be weird…because the corn could been super awesome with a hit of truffle oil. The green beans were crisp and fresh, albeit flavorless.
The best thing about an AA long haul flight in biz/first class is the ice cream sundae to finish the meal! I get mine with extra fudge and a dollop of whipped cream. I wonder what kind of fudge they use…and then, I also don't as I would turn into a giant dough ball if I found their supplier.
After the meal, I snoozed for a bit and woke up for breakfast about an hour and a half out from Helsinki. I generally like American's breakfast options. I went with the quiche which, much to my surprise, was pretty freaking amazing. The quiche was custardy and rich. The tomato's acidity helped to cut that richness. I ignored the asparagus as I hate asparagus. The only thing to complain about was the quiche's soggy crust. But you can't really prevent that with an airplane steam oven.
Iris went with the three cheese omelet and sausage with potato cake. I've noticed that when the eggs are in omelet form, they tend to maintain their eggy consistency vs. when they are scrambled and become rubber chewy bits closely resembling badly cooked calamari. I can't say much about this breakfast except to say that it was unexceptional but well executed.
Breakfast was accompanied by fruit and a choice of bread. Because we're huge fatties…I mean, foodies…we went with the croissant…even though we hadn't moved our bodies in about 9 hours (beyond the energy it takes to raise multiple glasses of wine to our lips). Oh well…we were on vacation! 😉