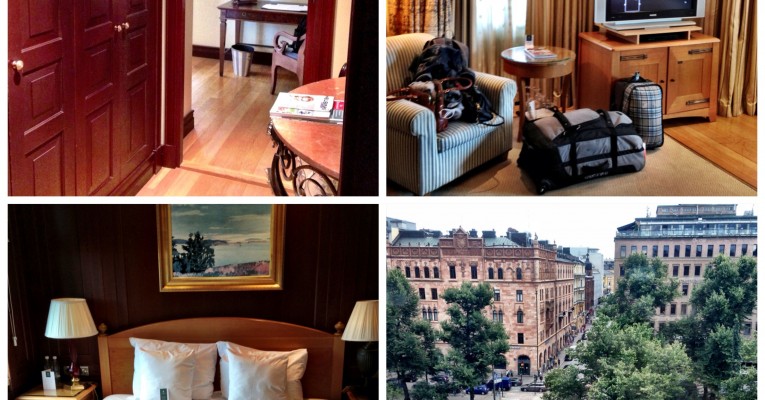 Hotel Kämp – not exactly "luxury"…
January 23, 2014
We all have our roles and I've long since figured out that mine is that of pre-planner while my sister, Iris is the day-of executor. I plan for all eventualities and make sure we have done as much as we can before we even depart. After that, any problems are Iris' domain. I'm simply not a confrontational person unless I feel truly wronged. Now, flashback to our arrival into the beautiful city of Helsinki…
From the airplane, Helsinki looked like Missouri – open, green and flat. Gorgeous.
Since Helsinki is English-speaking-friendly, we had no problem hopping in a cab and finding our way to the Hotel Kamp a member of the Starwood group via their Luxury Collection. Having stayed at the Hotel Kamp, I can say that "Luxury Collection" should more appropriately evoke images of old and staid rather than truly luxurious. Hotel Kamp reminded me of a stately grand dame…seemingly put together and proper until you look closer and note the cracks and wear and tear. The worst part though was that we arrived early in the A.M. having not gotten much sleep on the airplane. Even though we had advised the hotel of our early arrival, they were apparently completely booked and wouldn't have anything available for us until the check-in time. Luckily, they did have gym facilities for us to use and freshen up. We both got a workout in and then showered and changed. Even though we were super tired, we didn't want to waste our short time in Helsinki. So, we headed out to explore! More on that later…
After checking in every hour or so, our room was finally ready…right about at check-in time. The first room we received was a double bedroom. It was totally serviceable…except that it was super hot and stuffy. We couldn't get the air conditioning to work for the life of us. We booked the room on points and while we weren't expecting anything luxurious, we at least expected working amenities. After numerous attempts by various staff to get the A/C to work, one lady (the supervisor) came up and said the solution was that they would provide fans. Obviously, this was totally unacceptable. Fans merely blow around the hot, stuffy air! I'm convinced my body temp is that of a menopausal lady as I like the room temp to be downright chilly. But even my sister couldn't take the heat! So, it wasn't just me!
The shit had hit the proverbial fan. Iris politely but firmly let them know their "solution" wouldn't work for us. Eventually, the manager came up and moved us to a Jr. Suite. He was also nice enough to give us a complimentary bottle of red wine and free breakfast for the two of us the next morning. Frankly, he went above and beyond. The A/C worked better in the new room…in the sense that it was actually on…but the air really wasn't very cool. The new room, however, was nice and spacious.
Double doors led into the foyer with double closets!
The bed fit into its own nook. It felt a bit claustrophobic and cramped but at least the bed was super comfy.
Directly across from the bed was the TV and sitting area. Note my checkered blue roll-on suitcase? It's next to my sister's big check-in bag for scale. Yes, I indeed brought only that small roll-on for my one-week trip. Suffice it to say, I travel as light as flippin' possible!
The view from the room was beautiful. Helsinki is such a lovely city. It's almost like an old world Seattle – lush and green with a seafaring vibe.
The next morning, we got up bright and early for our hard-earned, free breakfast before our 9am flight to Moscow. And by bright and early, I mean, the restaurant wasn't even open yet! It seems there were a lot of older folks as part of a cruise group who were also waiting on the restaurant to open. We all congregated in the hallway as if worried there wouldn't be enough seating or food for u s all.
The breakfast, I'm happy to report, was well worth the wait. The food was delicious, varied and generous. And the setting couldn't have been more chill and relaxing.
The rain was just starting at this point and to sit in the glassed atrium drinking a nice cup of coffee was the perfect salve to my frequent flying soul.

Buffet eating rules applied. My first plate was a bit of everything. In clockwise order starting with the easily identifiable scrambled eggs at "6'oclock". Next to that was a piece of cured white fish and then salmon. There was also a poached salmon. Then, 2 kinds of sausages, bacon and ham. In the middle was the karjalan pie (Karelian pasty) which is a traditional Finnish dish. It's a rye pie crust with a rice filling and you top it with boiled egg mixed with butter (egg butter)…we mistakenly thought it was just boiled egg and took heaping dollops. We soon realized our mistake and scraped most of the butter off.

Iris' plate was a bit more varied than my meat-a-tarianism. Her's included cheese, a variety of pickles and a croissant.

Next, I went for some cheese from their handful of options as well as a boiled egg and some sort of jam.

The egg was amazing! How, you ask, could a humble egg be considered amazing? Well, they boiled it perfectly. The bright orange yolk was just south of being completely done which is how I like it.

Iris capped her breakfast with some fruit and juice.

Despite my lack of affinity for healthy food items, something made me try the yogurt here. I don't know what they do to the yogurt in this part of the world (and in Russia!) but it's so yummy! It's rich and thick and so full of flavor!

After breakfast, we had to pack up and ready ourselves to leave. Having ambitiously bought a bottle of wine at duty free and not realizing how truly knackered we'd be after our jetlag flight, we didn't even drink it! Plus, we had the free bottle of wine from the manager as well. Being the frugal Asian I am, I resolved to take it with us to Russia as wine in Russia is apparently expensive. I magyver'ed the hell outta some hotel slippers and packed it away!
Onwards to Russia!